Join our Interest List
and we'll keep you posted via email of future offers and events surrounding the release of No Matter The Cost.
"A powerful book that will help a lot of men recover hope and courage."
-John Eldredge, author of Wild at Heart and Beautiful Outlaw
---
"A uniquely authentic call to the deepest part of a man's soul."
-Dr. Larry Crabb, author of The Pressure's Off
---
"No Matter the Cost is a battle-cry for authentic manhood."
-Arnie Cole, CEO of Back to the Bible and coauthor of Unstuck
---
"This book is a cry for men to live the life for which they were created, a call to live a life of significance that I too encourage you to consider."
-Bob Buford, author of Halftime and Finishing Well
---
"Through No Matter the Cost, Vance challenges and encourages us as men to know who we are! He provides insight into God's word and shares amazing stories that will challenge us to get in the fight, No Matter the Cost!"
-Dave Dravecky, former Major League Baseball player, President and Founder of Endurance with Jan and Dave Dravecky
---
"Walk with Vance and come to see the spectacular beauty of the one who has been with you in the defeats and the sweet respites. This book invites the heart to hope again."
-Dan B. Allender, PhD, Professor of Counseling Psychology and Founding President, The Seattle School of Theology and Psychology
---
"You may desire to be a great businessman - which is a noble goal. But there is an even higher calling to be a good man for the Kingdom of God. No Matter the Cost should be required reading for anyone who is fighting to be such a good man."
-Tommy Spaulding, renowned business consultant andNew York Times bestselling author of It's Not Just Who You Know
---
"No Matter the Cost issues a radical challenge to men of all ages: Become the Christ-built warriors we were created to be: unbending in faith, unselfish in attitude—always honorable and humble in word and deed. Every man must hear Vance Brown's powerful message and then pass it on to the next generation."
-Michael Ross, bestselling author of What Your Son Isn't Telling You
---
"This is not a book filled with bravado, but with stories of men 'limping home, barely brave.' Vance's storytelling and John's golden pen result in a feast of all that is possible when men are willing to admit their need to live honestly before other men."
-Jan Meyers Proett, counselor, speaker, author of The Allure of Hope and Listening to Love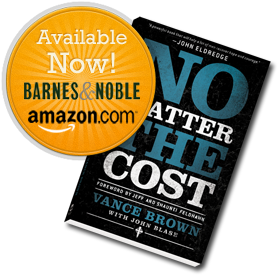 Excerpt from the Forward
This book has stirred up something in me that will never be the same again. My wife, Shaunti, and I have known Vance Brown for years and were delighted when he approached us about writing the foreward. But we were absolutely unprepared to be rocked by the power of this message - and by the overwhelming feeling that God is using these pages to awaken something in millions of men who instinctively know that they are called to be part of a larger story.
-Jeff and Shaunti Feldhahn Entrepeneurs, social researchers and best-selling authors of For Men Only and For Women Only